DPF (Diesel Particulate Filters)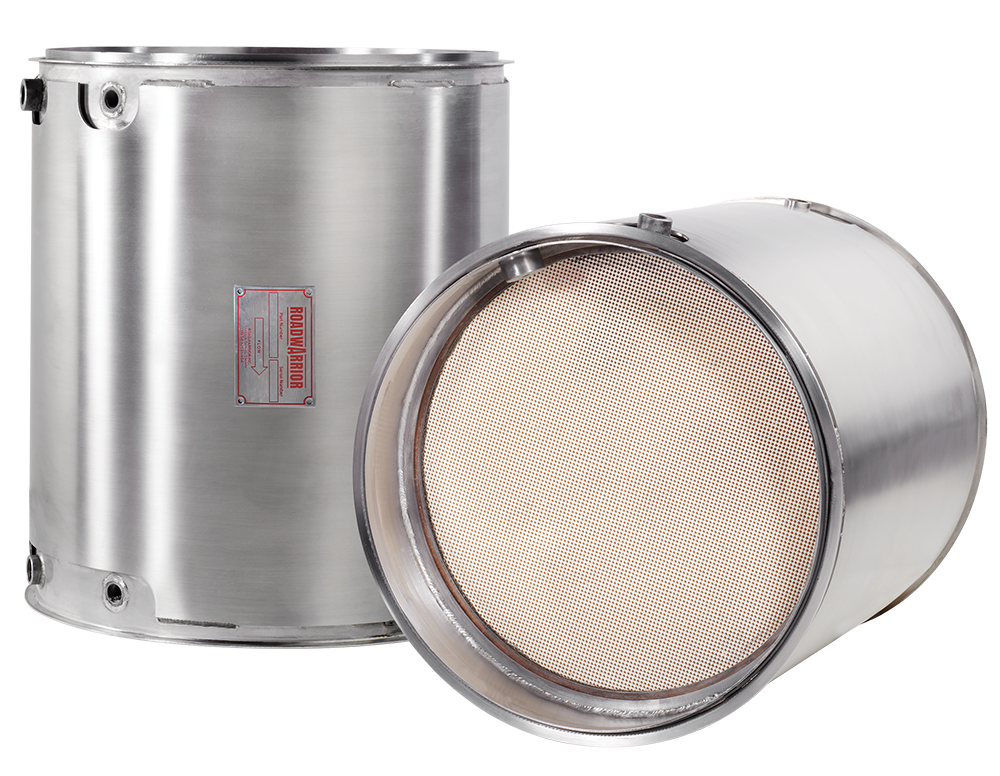 Diesel Particulate Filters are extremely effective at controlling the output of harmful emissions from diesel engines by trapping diesel particulate matter (PM) and allowing it to combust into carbon dioxide. The composition of PM is mainly soot (carbon), but will also contain lube oil ash, hydrocarbons and sulfur oxides. In properly working DPFs, visible soot is virtually eliminated from tailpipe exhaust.
Roadwarrior DPFs contain a cordierite filter with alternately plugged channels. The exhaust gas is forced to flow through the filter walls, trapping particulate matter such as soot, hydrocarbons, and lube oil ash, and allowing exhaust gas to pass through. As this particulate matter collects on the walls of the filter channels, a periodic regeneration takes place to burn off the trapped soot by an increase in DPF temperature. This regeneration is accomplished through a thermal management strategy that is incorporated into most 2007 and later model year heavy duty diesel engines.
In 2007 EPA emissions regulations were changed to require most US and Canadian heavy duty vehicles be equipped with a Diesel Particulate Filter (DPF). As of 2010, DPFs became standard equipment on all new makes of heavy-duty trucks in the US and Canada. Starting in 2013, all European heavy-duty trucks also require DPFs to meet EU emissions regulations.
OEM Direct Fit
Roadwarrior parts are direct fit replacements for OEM systems to ensure that installation is as quick and easy as possible. Roadwarrior parts include all necessary ports and attachments for sensors and are designed to operate in the exact same capacity as the original OEM part.
Roadwarrior DPFs are tested against the OEM to ensure that backpressure, temperature, and the regeneration performance meets, or exceeds, the standards set out by the original manufacturer.

Newly Manufactured
Roadwarrior DPFs and DOCs are always newly built, never re manufactured or re-conditioned. All Roadwarrior parts are backed with a one-year warranty.

Constructed with 409 Stainless Steel
All Roadwarrior parts are constructed in North America, by Roadwarrior  Inc., using high quality materials to ensure a long service life. Roadwarrior products are backed with a one-year warranty.

Coated with Platinum Group Metals
Roadwarrior DPFs and DOCs are coated with platinum-group metals (PGMs) platinum or palladium to match the catalytic activity level of the OEM component. A PGM coated DPF acts as a hydrocarbon slip catalyst, burning any excess fuel present during active regeneration. A DPF with a PGM coating will also have a lower passive regeneration temperature which can extend the time between active regenerations, saving on any additional fuel costs.

In-Stock Designs for all Makes and Models
With over 140 designs, and counting, Roadwarrior has the largest selection of aftermarket DPFs and DOCs on the market. If your vehicle's emission control system needs replacement, parts are in stock and available for same day shipment from one of our five convenient warehouses in North America.